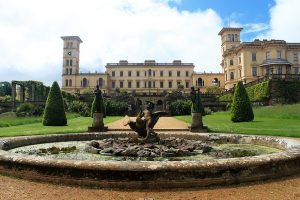 The Isle of Wight is England's largest island, separated from the mainland by the Solent. The island is known for its outstanding natural beauty, its world-famous sailing and the old world charm of its Victorian seaside resorts. It has a rich history, including a brief status as an independent kingdom in the 15th century. Until 1995, in common with Jersey and Guernsey, the island had its own Governor – most notably Lord Mountbatten. It was home to the poet Alfred Lord Tennyson, and to Queen Victoria, who built her much loved summer residence and final home Osborne House at East Cowes. The island's maritime and industrial history encompasses boat building, sail making and the manufacture of flying boats. The island has some exceptional wildlife and is one of the richest locations of dinosaur fossils in Europe.
A visit to Osborne house would alone make the ferry ride from the mainland worthwhile. It is furnished much as the queen left it and provides a marvellous insight into royal life, dotted with family mementoes. The Swiss Cottage was built for the royal children and is now a museum. The Royal Beach can now also be visited as well as the bathing machine used by the queen to preserve her modesty.
Other sights include a fine Roman villa at Brading, the old port of Yarmouth, ancient Carisbrooke Castle, which once held Charles I prisoner, Newport, the island's capital and Cowes, famed for its sailing regatta. The island's scenic highlight is probably the Needles, three towers of rock jutting out into the English Channel at the western end of the island, close to Alum Bay, renowned for its multicoloured cliffs and sand.
The Isle of Wight has an old world feel with historic Victorian seaside resorts, such as Ventnor and Shanklin. Ventnor boasts an attractive botanical garden and visitors can also enjoy a ride in the Victorian and Edwardian carriages of the Island's own steam railway.