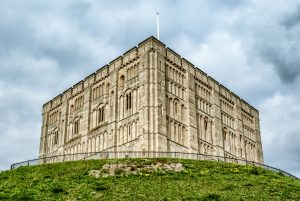 The early transformation of areas of East Anglia, and in particular Norfolk, from a swampland to productive land was the work of Dutchmen who not only drained the land but imported windmills as pumps to achieve this. Many of the rivers and broads (shallow lakes) are navigable and lock free and this offers a great tourist attraction to enjoy the waterways and wildlife in Britain's largest nationally protected wetland -The Broads.
Rivers in East Anglia are divided by two low plateaus and it is the northern-most one which separates The Fens from The Broads. The western side is drained by the Great Ose River and one of its tributaries is the Cam, with its obvious connections to Cambridge the western-most, East Anglian county. Norwich situated to the south of The Broads on the River Yare has been a church centre for East Anglia for some 900 years and a service centre for the 30 or so nearby Broads.
The building material for many houses on the coastal strip is flint, squared off with bricks but in other locations house walls are often faced with pebbles. Flint was also used in other larger building such as the Keep of Norwich Castle but a range of other styles of building such as half timbered houses and those with raised ornamental plasterwork add to the diversity.
For more details about possible tours to East Anglia or to arrange a bespoke adventure, please get in touch with us.