Channel Islands – Jersey, Guernsey & Sark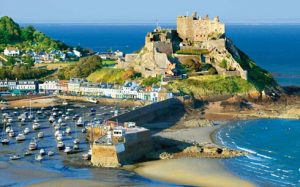 Measuring less than 120 square kilometres, the Bailiwick of Jersey is a British Crown Dependency off the coast of Normandy and together with the Bailiwick of Guernsey, (less than 80 square kilometres) it forms the grouping known as the Channel Islands. These are separate possession of the British Crown and are not part of the UK. Their history and culture are influenced by their strategic location between the northern coast of France and the southern coast of England. Formerly under the control of Brittany, invaded by Vikings, annexed to the Duchy of Normandy, they emerged as miniature self –governing territories.
The islands have a seafaring tradition and trade with the Newfoundland fisheries  gave rise to the name New Jersey in the US. Trade further laid the foundations of these attractive islands' prosperity as well as agriculture (Jersey and Guernsey cows are recognisable the world over), milling, fishing, shipbuilding as well as financial services. Both islands have their own heritage and patois but during World War II, were the only part of the British Isles to be occupied by Nazi Germany. Both islands boast charming historic ports and towns such as St Helier and St Peter Port as well as famous former residents like the actress Lillie Langtry, (the Jersey Lily) and Victor Hugo who wrote some of his best-known works while in exile in Guernsey.
While there it is worth taking the time to visit the tiny island of Sark which is like stepping back in time. The island has no cars and has been traditionally run almost feudally by its Seigneur under powers granted by Elizabeth I. There has been some recent reform and Sark now come under the government of Guernsey but it is still a fascinating and tranquil place to visit known for its dramatic seascapes, abundant wildflowers and seabirds.
Getting to the Channel Islands
Ferries to the Channel Islands are available from Poole and Portsmouth
Flights are available from London, Southampton, Birmingham and many other regional airports.
For more details about possible tours of The Channel Islands or to arrange a bespoke adventure, please get in touch with us.