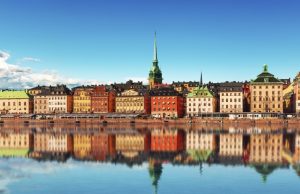 Sweden is the largest of the Scandinavian countries and has historically dominated its smaller neighbours. It is a country of lakes and forests, stretching from the Baltic to the Arctic Circle.  Its greater contact with the outside world has created an open and outgoing people, whilst its social policies have brought about one of the highest standards of living in the world.  Sweden, like its other Scandinavian neighbours is still a Monarchy.
Stockholm
Stockholm, undoubtedly one of the world-s most striking capital cities, reflects Sweeden's royal heritage in its palaces and architecture. During your visit to this imposing capital you can learn of the history and culture of Stockholm from its Viking origins through to the growth of its Royal Houses and dominating role in the European Reformation. Experience the quaint Old Town of Stockholm together with its ornate City Hall where the Nobel Prize Award Ceremonies are held. You may also wish to visit the impressive royal residence of Drottningholm Palace and learn about Sweden's cultural history at the fascinating Skansen ethnographic museum. Sweden's maritime heritage is proudly displayed at the Vasa Museum where the mighty 64 gun 17th century warship "Vasa" can be seen almost perfectly preserved after sinking on its maiden voyage.
Tours by air
Flights to Stockholm are available from London taking 2.5 hours
For more details about possible tours of Sweden or to arrange a bespoke adventure, please get in touch with us.