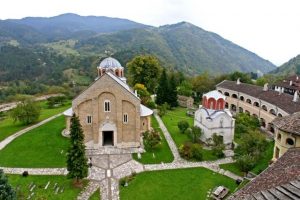 Serbia, one of the more forceful countries which made up the former Yugoslavia, lies at the heart of the Balkans. It is a country which has suffered much conflict in both its medieval and recent past. At the crossroads between the Slavonic civilization and Central Europe, Serbia represents a palette of traditions and cultures unique in Europe. No less than 26 nationalities each of them preserving its customs and its folklore, but also four great religions are present here. This naturally gives the country numerous and variously coloured traditional feasts as well as music and dances. However, Serbia also offers dramatic mountains, green pastures, sedates rives and swift streams not to mention the architectural heritage in its many historic cities and UNESCO protected orthodox monasteries.
Belgrade
The Serbian capital, Belgrade, lies at the confluence of the Danube and the Sava and is itself a confluence of cultures as different as the Eastern Ottoman, the Austrian European and the Slavic civilisation. Destroyed more than twenty times in the course of its millennial history, Belgrade has kept a "Balkanic" firmness and pride. The "White Town" always surprises the visitor with its stormy rhythm of life and by a certain nonchalance – even stubborn defiance!
Here you can learn about the turbulent history of the city and experience the Kalemegdan Fortress dominating the Sava River. Be sure to view Republic Square and Knez Mihailova, the main artery of the city, and also pay a visit Saint Sava Orthodox Church and the memorial to Marshal Tito.
Novi Sad
Novi Sad, folded on the Danube and peacefully installed in the planes of Vojvodina, is a city of rich monuments and cultural riches. Its literal name means "new furrow", to encourage a strong character entirely independent of the nearby Serbian capital but it is also widely regarded a protector of Serbian culture, as it was here that the first Serbian lyceum and the first library were founded in 1826. However, today the city is an important symbol of multi-ethnicity – Serbian, Hungarian, Slovak and Ruthen are all official languages. Take a guided city walk around this city and see the fortress of Petrovaradin, the university and National Theatre
Vrnjacka Banja
Vrnjacka Banja is Serbia's most celebrated spa and is an attractive town of parks. It owes its reputation to therapeutic effects already known to the Roman troops in the 2nd century AD and was founded in 1868. As well as being an interesting attraction in itself, this town serves as an excellent base to explore the UNESCO protected monastery of Studeica which is considered the crowning achievement of medieval culture and art in Serbia.
For more details about possible tours of Serbia or to arrange a bespoke adventure, please get in touch with us.