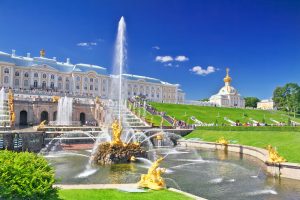 Russia is a land of diverse landscapes from icy tundra and sunny beaches to dense forests of silver birch and fir trees to mysterious lakes and swaying grasslands. It is a land of contradictions from unbelievable riches to indescribable poverty, cruel tyrants and great thinkers, generous hospitality and meddlesome bureaucracy, awesome ballets and industrial monstrosities, pious faith and unbridled hedonism – all in a setting of ancient fortresses, luxurious palaces, swirly-spired churches and lost in time wooden villages.
St Petersburg
If Moscow is Europe's most Asiatic capital, St Petersburg is Russia's most-European city. Created by Peter the Great as his "window on the west" at the only point where traditional Russian territory meets a seaway to northern Europe, it was built with 18th and 19th century pomp and orderliness by mainly European architects. The result is a city that reminds us of Europe's most beautiful cities, fortunately little harmed by Stalinist reconstruction. Experience the history and architecture of St Petersburg with a visit to the Peter and Paul Fortress, a view of St Isaac's Cathedral, and a tour of the superb Hermitage Museum. Follow this up by sampling the extravagance of Russian architecture with a visit to some of the sumptuous Palaces around the city such as Petrodvorets on the Gulf of Finland and Catherine's Palace with its famous Amber room.
St Petersburg is also an excelent base to explore the ancient cultural city of Novgorod with its 9th c Kremlin, 11th c Cathedral of St Sophia, Yaroslav's Court, the 12th c Yurev Monastery and Vitislavlitsy Museum of Wooden Architecture
Russia's Golden Ring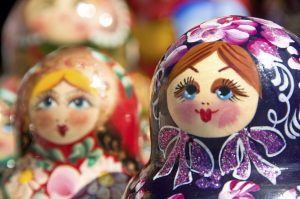 Russia's Golden Ring is arguably the most picturesque and historic part of Russia. Before Moscow was capital, the towns of the Golden Ring were the seats of power of medieval Rus. These northern Slavonic principalities jousted for powers, shaping Russia's early history. Here you can experience archetypal art and architecture, grassy hills indicating where ramparts once stood and whitewashed walls around ancient monasteries.
Places to visit in the Golden Ring:
Vladimir whose solemnly majestic Assumption Cathedral was built to announce this now provincial town's claim as capital of Rus. Here you can also visit the Cathedral of St Dmitry and view the Golden Gate.
Fairytale Suzdal with its winding waterways, flower-drenched meadows and dome-spotted skyline where we visit the 11th century Kremlin together with the icon museum, 14th c Monastery of St Euthymius and Intercession Convent founded as a place of exile for the Tsars' unwanted wives
Kostroma on the banks of the Volga with its 14th c Monastery of St Ipaty and Trinity Cathedral renowned for its old frescoes.
Yarolsavl, founded by Grand Prince Yarolsavl the Wise in 1010, was for a short time the capital of the Russian state. Yarolsavl emerged as a great mercantile centre, seeing the establishment of Russia's first national theatre and provincial newspaper. Here you can experience the splendid Russian architecture of the fortified Monastery of the Transfiguration and the exquisite Church of Elijah the Prophet.
Sleepy Rostov-Veliky with silver domes on shimmering Lake Nero where we visit the Kremlin and Museum of Ancient Russian Art
Sergiev Posad with a visit to the Trinity Monastery of St Sergius, one of the most orthodox and important in Russia.
Moscow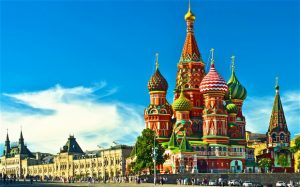 Moscow is regarded as Europe's most "eastern" capital boasting Saint Basil's Cathedral, Red Square and the mysterious Kremlin. It contains some of Russia's outstanding architectural monuments from the fifteenth to seventeenth centuries, as well as great constructions from the Stalinist period including the "people's palaces" of the Moscow Metro, one of Europe's most outstanding metro systems
In Moscow you can experience and learn about the rich history, heritage and culture of Russia and Moscow by viewing the many icons in the city including Red Square, Cathedral Square and the Great Bell Tower of Ivan the Great plus a visit to the Armory Museum.
Irkutsk
Irkutsk, is now the regional and administrative capital of Siberia. It came to prominence in 1651 as a Cossack garrison and in the 1700's was an important trade centre for furs and ivory, later to become the administrative centre and industrial and scientific centre during the Soviet era. With the coming of the railway in 1898, Irkutsk was linked with the rest of Russia and became an important strategic outpost.
In Irkutsk, as all throughout Russia, you can board the Trans Siberian Train for an epic rail journey through Siberian forests and across the rural mountains to Europe and Moscow.
For more details about possible tours of Russia or to arrange a bespoke adventure, please get in touch with us.