The Netherlands' early history is linked with Belgium and Luxemburg and the three were collectively known as the 'Low Countries' until the 16th Century, when the Netherlands broke free of Hapsburg domination to become an independent state.
Amsterdam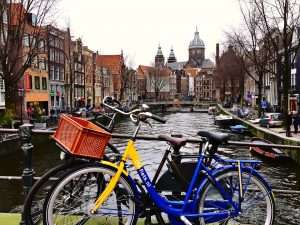 Amsterdam emerged as an important trading centre during the 16th Century when its maritime exploits led the world, amassing great wealth following exploitation of the Dutch East Indies.  Due to its patronage of artists, including Rembrandt, Amsterdam houses some of the great art treasures of the world. Amsterdam is also famous for its scenic canals, flower market and nearby Keukenhof public garden, showcasing local Dutch bulbs.
Netherlands. Maastricht
The city of Maastricht emerged in Roman times as a crossing over the river Maas and was Holland's first bishopric. It contains some incredible historical monuments from the Romanesque Basilica of Our Lady to much of the Roman and medieval fortifications as well as some outstanding museums. This relatively small city in the province of Limburg came to fame as the venue for the "Treaty of Maastricht" which brought closer co-operation between the counties of the European Union.
Close by is Aachen, Germany's westernmost city located in the corner where Germany, Belgium and the Netherlands meet. This city played a prominent role in European history as Charlemagne's capital and continued to be a powerful imperial city, well into the Middle Ages.  It was an imperial city, the residence of kings and emperors and site of many coronations and Imperial Diets,
Maastricht is also an ideal base from which to visit the nearby World Horticultural Expo, known as "Floriade", held only every 10 years in the Netherlands.
For more details about possible tours of The Netherlands or to arrange a bespoke adventure, please get in touch with us.