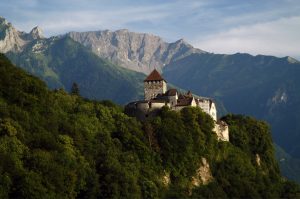 The principality of Liechtenstein is an independent state tucked between Switzerland and Austria. With an area of just 157 square kilometres (61 square miles), it extends from the western slopes of the Raetikon Ridge to the River Rhine. The country's favourable tax laws has made it the headquarters of numerable holding companies and, in proportion to its size Liechtenstein is surprisingly industrialised, with one of the world's highest per capita incomes
Already settled during the early stone age, the county of Vaduz, established in 1342, was acquired in 1712 by prince Hans Adam of Liechtenstein. It became an imperial principality in 1719 an after a period of partial union with Austria, it finally formed an economic union with Switzerland. Liechtenstein uses the Swiss Franc, Swiss customs, and the Swiss postal system, although it produces its own distinctive stamps. Today the principality of Liechtenstein is a constitutional monarchy and, although not a member of the EU, is, like its neighbour Switzerland, a member of Schengen.
Vaduz, the countries capital is the main tourist attraction, dominated by its royal castle. It boasts a fascinating post office museum and an impressive gallery containing some of the Prince's art collection.
A visit to Liechtenstein is normally combined with a tour to neighbouring Switzerland or Austria
For more details about possible tours of Lichtenstein or to arrange a bespoke adventure, please get in touch with us.