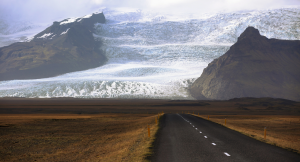 Iceland is misnamed as only 11 per cent of this island of "fire and ice" is actually covered in permanent frozen water. Rather this is a new born land where the earth's crust is at its thinnest and elemental forces of creation are at work as the European and North American plates tear apart to form arguably the most fascinating geology in the world. Take an Icelandic adventure to explore this county's raging rivers, massive waterfalls, magnificent glaciers, spouting geysers, steaming solfataras and awe-inspiring landscape. You can also learn about the culture and history of this least densely populated country in Europe. This is a land of rich Viking Sagas and Eddas and it boasts possibly the oldest parliament in the world! Meet the creative and ingenious Icelanders in both the country's tiny port capital, Reykjavik, and in the stunning landscape, and learn what it is like to live on this tempestuous but awe-inspiring island.
Reykjavik
Reykjavik is a place full of surprises and contradictions. It is a capital city but not much bigger than a small town, a city remote from the world but, with modern technology, right at its heart. This, the world's most northerly capital but is known as one of the party capitals of the world where there is a sense of things happening! The city combines colourful buildings with quirky people and a capricious soul. In winter, the city is scoured by blizzards and doused in never-ending night but in summer, the streets are washed with 22 hours of daylight. Reykjavik is a city that treasures its Viking past but lives for the present and the future. You can view the city from the Perlan, a collection of water tanks which have now been converted into a multifunctional centre with superb views over the city, harbour and surrounding mountains, and explore the stark white Hallgrims Church, the old Parliament and the bright modern city hall and visit the impressive Museum of Iceland which traces the history of the country with fascinating displays.
For more details about possible tours of Iceland or to arrange a bespoke adventure, please get in touch with us.